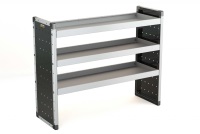 Van Guard Van Racking and Shelving

Internal Van Racking

This style internal van racking has been designed for a multitude of uses. The steel shelving systems are suitable Plumbers, Electricians, Maintenance, Builders etc. The internal racking is also suitable for garage, workshop or stores.

Simple yet effective, robust and versatile, the systems combine secure storage with easy access for almost all types of small components, tools and accessories designed with shelving, partitions, drawers, removable polypropylene bins with four polypropylene cups in each bin.

Whichever type of unit you require it will be delivered already assembled and ready to be easily fixed into position.

Manufactured from tough light weight each unit is compatible with the next which will enable you to build a quality system to suit your own individual needs.

Please Click on a Picture for more info.